I just wanted to give everyone an update on the progress we are making on putting the puzzles together. We have two completed, and are working on the third one.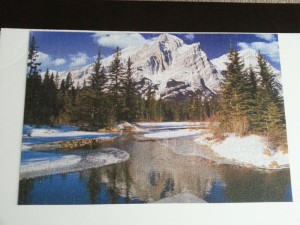 The first one we completed was this mountain snow scene. We chose it first because of the snow in it, which goes with our name of course, and the name of the blog. We also simply enjoy this type of scenery the most. We live out in the country, and we love it. So it was fitting that this would be the first one we completed. It wasn't terribly difficult, but it was challenging enough to keep us interested. Keep in mind, we've never worked a puzzle this big in our lives, so the thought of it in the first place was a little daunting to say the least!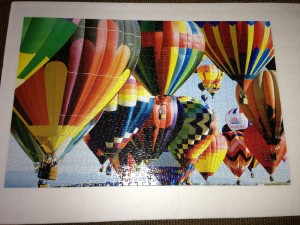 The next one we chose was this one of the hot air balloons. We chose it because of its simplicity (It really was a breeze compared to the first one!), and because Becky has always liked them. On a trip up to Ohio to see my sister once, we passed by a community college that was having some sort of hot air balloon festival. It was pretty cool to see dozens of those balloons fully inflated! I can't remember if any were flying, but either way it was certainly a cool sight to see!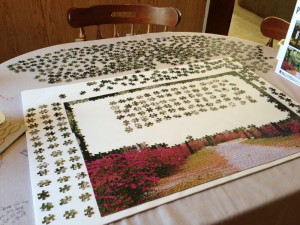 The puzzle we're currently working on is kicking our tails. It's a beautiful scene with a path (driveway?) going through some trees. The problem is that there are no patterns to try to match up. We're trying to find pieces that have tree trunks in them and work our way out, but even that is proving difficult.
I'd also like to take this chance to say a huge "Thank you!" to those who have bought puzzle pieces so far. I've added a counter to the right that will track how much we've raised based on what you have bought.
Again, thank you so much for helping us through finances, and especially through prayer!
-Jonathan