I hope all of you had a wonderful Christmas! This year I decided I wanted to start some new family traditions. I've come up with a few small ideas on my own and found a few other ideas online. We did a couple of these ideas this year to see if we would like them but the rest I am saving and thinking ahead just a little for Christmas 2014. 😉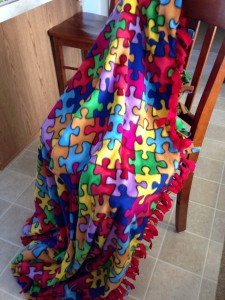 Anyway, I wanted to share a short story with y'all about something that Jonathan and I received this year as a Christmas gift. The picture to the right shows the beautiful blanket that we were given. I had been in Hobby Lobby many times and saw this fabric but did not have the extra money to buy it. My Mom bought enough fabric so that it would be a blanket big enough for me and Jonathan to share. I hope to someday soon buy more of it to make for our own little one. I also saw some fabric in Walmart with puzzle pieces on it which I plan to buy someday for making a baby quilt. As you can imagine, I love anything now that has to do with puzzle pieces. 😉 So many plans and so many ideas… maybe it won't be much longer until we can make them reality.
I hope you enjoyed this sweet Christmas story. Honestly… This blanket matches absolutely nothing in my house, but I could completely care less because what it represents is so special to me! Its new home (when not in use) is spread across the back of the couch where it can be seen by all, and on these very cold days… used all the time. 😉 We are thankful for everything we received this year and for the time we were able to spend with our family and friends. We are so blessed!
It is of course also $5 Friday so we are sharing our blog in hopes that you will pass it along to those you know. Please pray for us and if you have it to give please help us raise the money we need for our IVF Fund. May God bless you all abundantly for what you've done for us!