Last Thursday was Jonathan's Birthday so we left Tennessee and drove to Atlanta to see the Braves play some ball. Jonathan has been wanting to go to a game for 2 years but we never have been able to go. Jonathan got some coupons that were B1G1 free so we all got into the game for a really good price! Jonathan LOVES baseball so this was a special and fun treat for his birthday! It doesn't take that long for us to get to Atlanta so I hope we can go a little more often since its something he likes so much and especially when we can get in for as cheap as we did this time. 😉
Even though the kiddos didn't know what it was all about they loved looking at everything there was to see there. Dane was fascinated by the jumbotron and Kyeli went nuts when she saw the big Chick-fil-a cow they had there! 'Moo' as she calls them is her favorite animal so anytime she sees a cow she gets very excited. 😉 She loved clapping and cheering with the crowd even though she didn't know what it was all about. They were both very good and surprised us with how well they did at the game. Bless their little hearts though, they both got a little tuckered out and fell asleep for the last few innings. It was amazing to me at how they could sleep through all that noise. LOL
We had been wanting to get away for a few days so after the game we drove to Pigeon Forge where we stayed for a couple days. On friday morning we woke up, grabbed some breakfast and headed for Dollywood for some fun! This was why we didn't have a blog post last Friday. I thought of it late Thursday night but then with everything going on Friday morning I just forgot all about it. We had a good time at Dollywood though. When we got inside the park we took Ky to their measuring station so we could see what all rides would be available for her to ride. She is not even 36″ tall yet so she was a little limited in what she could ride but she didn't mind. Of course we couldn't ride any roller coasters 😉 but I was actually surprised at how many little rides they do have that she could ride. She was as happy as could be riding the carousel, ducks, dumbo, bumble bees, little pigs, and the shooting star. We could have also ridden the ferris wheel but decided not to. Its funny how time flies when you're having fun cause we had been there for several hours but it didn't feel like it.
We also went to see the Wings of America show cause Ky also loves birds and we listened to the Kingdom Heirs sing. These were both fun but gave us all some time to rest up a little bit between rides.
Jonathan says he thinks we are raising a monster when it comes to rides with Kyeli cause she was not scared of anything and was even begging me to take her on the little kid roller coaster but she was still to little for it so we were not able to ride that one. I have NO DOUBT that as soon as she is big enough she will ride every roller coaster available. Even the shooting star ride I thought would scare her but it was right the opposite. She laughed so hard she was cackling and as you can imagine this had me and Jonathan rolling with laughter too. Its going to be even more loads of fun when she is old enough to ride the big rides too but for now I kinda like riding Dumbo! 😉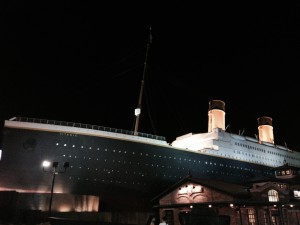 Later that evening we were looking for something to do inside and that would't cost a fortune so we went to the Titanic Museum. I've heard a lot of people talk about it. I've heard its great and then I've also heard its not worth the money. So we decided to form our own opinion and go see what it was all about. Dane and Ky got in for free because there is absolutely nothing for kids that little to do in there. They didn't mind though and rode around just looking. It is a little bit pricey but I still enjoyed it. While I do believe the story of what happened with the titanic was very sad I still enjoyed learning more about its history and seeing some of the artifacts they had at the museum. It really was a beautiful ship and the architect that designed it must have been brilliant until his very popular phase that "Even God Himself Couldn't Sink It". I can't help but wonder if he had sealed his fate after such a statement as that and then learned a very valuable lesson on that sad day. If you are a history buff or just love the story of the Titanic then I would definitely recommend this museum to you.
We were planning to come home on Saturday but decided to go to Ripley's Aquarium first. They have a deal going until Sept. 1 that if you show a Tennessee drivers license you can get in for $10.00 which is awesome because otherwise their tickets are very expensive. On saturday morning we started telling Kyeli what we were going to do and she couldn't hardly wait to see the "shish" as she calls them! Since we were coming home that day we went ahead and decided to check out of our hotel room so this made things take longer because of having to pack up the car. Every so often she would ask Bye Bye… shish? It was so sweet to see the look on her face when she saw the first tank. I wanted so much get capture a picture of that first moment but wasn't able to get one. I did take several pictures while we were there though. I think this one is my favorite from that day!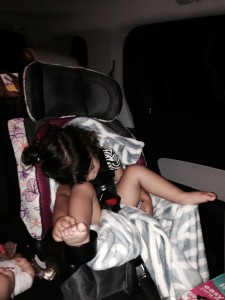 We came home to quite a bit of work to do in preparation for church on Sunday, and also had to go grocery shopping since there wasn't much in the house from our trip. This picture was taken after we got home from grocery shopping that night. This position for her is not lady like at all but it must be comfortable because 90% of the time this is how she sits in her car seat so I wasn't too surprised to see her asleep that way too. The day was done and she was out like a light. We were all so worn out but we all had a very good time on our trip and we made some awesome new memories together! I hope this post didn't bore you but I just thought I'd share about our vacation!
As far as our progress towards our IVF procedure… We now have over $10,000 saved! How AMAZING is that?! We are thrilled and can't wait for that special day to finally come! If you have it to give today $5.00 goes a long way in helping us reach that goal. 🙂