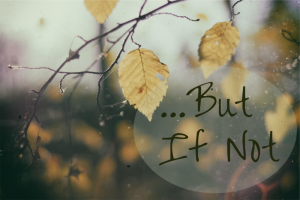 Three hebrew children faced with their greatest trial of all
The king said give them one last chance, surely their faith will fall
But they would not bow, and they would not bend
All they said was we will stand
For the God we serve is able to deliver from your hand
But if not, we're still gonna love with all our might
We're still gonna bless His name through the darkest night
Not our will but His be done, The Lord, He knows our heart
He may grant us our request, but if not, we'll trust His way is best
Lord, I know that I have prayed this prayer so many times before
But here I am before you now pleading my case once more
Lord, You know how important this one thing is to me
And I believe You're able to give me what I need
But if not, I'm still gonna love with all my might
I'm still gonna bless Your name through the darkest night
Not my will, but Thine be done, O Lord, You know my heart
You may grant me my request, but if not, I'll trust Your way is best
It's been over 3 years since Jonathan and I started this blog. We began sharing with the world the desire we had to have a family of our own. This was an area of our lives that was somewhat private. Those who knew us well, knew the situation we were in and prayed with us that someday God would answer our prayer, but really it was a step of faith to share those deepest desires, to open our hearts to so many people especially not knowing what the outcome would be. I remember thinking "What are people gonna think of us for doing this?" I knew some people would help us, would pray, and would be kind to us but we also received some criticism and harsh remarks along the way. We knew that would possibly happen too, but trusting The Lord and letting Him lead us we followed His plan as best we knew how.
There were days that I watched as money for those puzzle pieces poured in and I could only stand in amazement, but there were still times when I doubted that we had made the right choices. I mean… "What if we do all this and then it doesn't work?" That was a question that played over and over in my mind and the devil began to use that as a fear to haunt me. I knew that if it didn't work I didn't want to become bitter and quit on the Lord because even if he didn't give us our desire He had still been to good to us to walk away bitter and angry with Him, but I was still scared.
I began praying and seeking The Lord for peace from this fear that I felt, and just when I was beginning to think He would not answer me He showed me this verse.   …Fear ye not, stand still, and see the salvation of the Lord, which he will show to you today… Exodus 14:13. I wrote the date in my Bible as a reminder to myself. It was on July 7, 2013 during Sunday School, Jonathan touched on this verse for just a few minutes during the lesson but it jumped out at me and I clung to it as if it were the knot at the bottom of a rope. It was at that point that I truly began to trust The Lord that He WAS gonna show us a miracle! I didn't know how or when, but at that time it was as if it were HIS promise to me and I didn't have to fear or worry anymore.
Instead I began praying that if it were His will for us to have children how happy we would be but if He didn't then I was still gonna walk on and love the Lord no matter what. Then I heard this song and it stuck with me! Looking back now we had NO IDEA of the plans God had laid out for us! Only He could have orchestrated things to happen the way they did. What we saw as an impossible situation, He changed into a miracle for us.
Now I have two beautiful gifts from God, and they call me Mommy! I'm thankful for the miracle of my children, I'm thankful for how God changed our home, I'm thankful God answered our prayer and gave us the desire of our hearts, and I'm thankful He loved me enough to answer my prayer even though I didn't deserve it. THE LORD TRULY IS GOOD ALL OF THE TIME!