Then…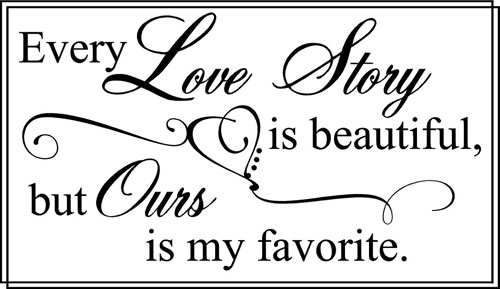 Becky and I met for the first time as young teenagers at Open Bible Baptist Church in Harriman, TN. My family attended the church and we were all church members. Becky's family joined the church later on. My sister, Joy, became friends with her, so she would come to our house on occasion and spend time there. I guess you could say that in many ways, we grew up together. We saw each other all the time, and we were good friends, yet were not romantically interested in each other for years to come.
Fast forward to 2004. Becky and I became interested in one another and began courting. It wasn't long until we both knew that God had brought us together and was leading us to marriage. We both had these ideas and dreams about what our home would be like, how our lives would look, how big our family would be…it was with great anticipation we made all of our plans. Our plans…
We were married in April of 2005, and after just a short time we decided we wanted to go ahead and have kids and begin growing our family while we were young. After trying for about a year, we were seeing no results and began to wonder if something was wrong. We began seeing doctors..family doctors, gynecologists..we found out that Becky had what was being called PCOS, Polycystic Ovary Syndrome. It was causing problems with her getting pregnant. We tried some medications in an attempt to help regulate that, but were still having no success.
Fast forward again to 2008. We were still trying to get pregnant. There have been tons of emotions and thoughts ranging from near-depression to acceptance, from 'Why, God?' to 'Whatever You Will.' During this year, the Lord led us to Fellowship Baptist Church near Wartburg, TN. We joined the church in September of '08, and also found out that our pastor and his wife had faced some similar situations as we have. They recommended their doctor, an infertility specialist, Dr. Keenan.
When we first began seeing Dr. Keenan, he was very optimistic about our chances of conceiving a child. We began treatments with him and we were excited and optimistic as well. He gave us some medications to try, but there was no success. Next we tried a procedure called an IUI, more commonly known as artificial insemination. We waited anxiously for results because this was, so far, the best chance we'd had to become pregnant. When we got a negative result, again, we were hurt and disappointed. Dr. Keenan encouraged us that IUI was still the best option we had at the time, and wanted to try some injectable medications along with it to give us an even better chance. We did a round with these medications, and still got a negative result.
After this, Dr. Keenan suggested a surgery that would go a long way in correcting PCOS. About 2/3 of women who have this particular procedure saw improved pregnancy rates. We thought about it, discussed it and prayed about it, then went ahead and scheduled the surgery. In January of 2010, Becky was scheduled for outpatient surgery at UT hospital in Knoxville, TN. What was supposed to take a maximum of about 45 minutes to do the procedure turned into an hour, then 2 hours. During this time, I was recieving periodic phone calls from one of the nurses to let me know she was ok, but that it would be 'just a little longer'.
When Dr. Keenan finally came out to let me know how things went, he told me that the procedure was not a success. I was floored. He told me that once he got inside, that he found quite a bit of scar tissue around her ovaries and appendix. He spent the entire time cleaning up around the appendix and the rest of that side of her body. The other ovary was pretty much buried under the scar tissue, and because of the number, fragility and location of blood vessels, he was uncomfortable with trying to remove scar tissue from that side. He was still optimistic about the improvements the cleanup could offer. It took Becky a couple of weeks to recover from the surgery. When we went back for a follow-up appointment with the doctor, he suggested another IUI with injectable medications. We scheduled it, and had it done. This one was still without success. It was at this point that Dr. Keenan said that our best option would likely be IVF – in-vitro fertilization.
During the past year and a half, Becky and I have been thinking about and most importantly praying about what to do next. IUIs are not cheap for the procedure itself. Dr. Keenan was very kind to donate some medications that we needed for the procedures, but we still had to pay quite a bit in the end. The Lord has given us peace to proceed with IVF, and we believe with all of our hearts that it is His will.
I have a great job that pays well. But to do IVF will cost up to 15 thousand dollars. With existing bills we have, plus some debt we are working on paying down, we simply can't afford it. We thought about adoption as well, but the costs are similar to, if not more than, IVF. My insurance, as well as most others, doesn't pay anything toward infertility treatments, so every procedure we have, we pay pretty much the entire amount.
Here's what we're doing to help ourselves:
We're currently looking into buying our own health insurance which does cover infertility treatments. We've been unable to find any insurance in Tennessee that will cover infertility treatments.
We are applying for a grant which would total $10,000, but we won't know until October of 2013 if we will receive it.
We are investigating loans which are specialized or tailored to paying for infertility treatments. The loans we have found carry high interest rates and would be too costly.
Now is the part where you come in. All of the above options are uncertain. If we were to receive the grant, for instance, we would still have up to 5 thousand dollars left to raise. We are reaching out to you for your help in completing our journey.
We've purchased 4 1,000 piece puzzles. We are selling puzzle pieces for $5 a piece. If one puzzle is all that is needed, then praise the Lord! If all of the above options fall through, we will need to sell nearly all pieces of 3 puzzles.
Here is what you'll get for your $5. We will number each of the puzzle pieces on the back. As money is given, we will fill out a computer spreadsheet that tells the names, dates, and amounts given, and correlate those to the numbers on the puzzle so that it will always be a reminder of how God provided.
Provided the IVF is successful and the Lord wills to give us a child, the puzzles will be glued together, framed and given to the child as a reminder of how good God is, and how He used all of you to help with the financial burden of the IVF procedure and related medications.
Though many of you we may not know personally, please know that we are so very grateful for your help, whether it be financial, prayers or even a small word of encouragement. God bless you!
Now…
Well, though we prayed hard about pursuing IVF and thought God was leading us that way, He obviously had different plans. We've spoken to others and to each other about how God may sometimes have us do one thing to prepare us for another. In looking back at how God orchestrated all of this, I'm confident that He was preparing us for the adoption of Kyeli and Dane the entire time. I mentioned in our announcement post that when we started raising money, Dane hadn't even yet been born. God was leading us down a path that would enable us to make these two precious children a forever part of our home.
When we think about how God has blessed us, it takes our breath away every time. We went for 9 years in our marriage, desiring children the whole time, then to see how God chose us to raise Kyeli and Dane floors us. Part of us still can't imagine that this is real – that we have two beautiful children giggling and running around the house. The other part of us has become accustomed to it. Not that we're complacent, but that we'd totally miss it and be heartbroken if it were gone.
So as we continue our journey with our new family, please continue to keep us in your prayers…and follow along with us!